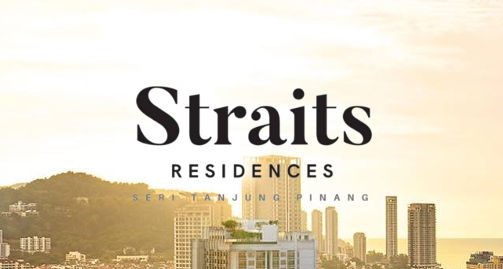 Building Name
:
Straits Residences
District
:
Penang George Town
Type
:
Residences
Address
:
Straits Residences, 3k, Jalan Seri Tanjung Pinang, Jalan Tanjong Tokong, 10470 George Town, Pulau Pinang, Malaysia
Developer
:
Kerjaya Prospek Property Group
Block No.
:
TOWER 1
Floor No.
:
28/F Residences 29/F Club House
Total Unit
:
246
Size
:
Type A 1356呎 , Type B 1335呎 , Type C 1335呎
Type D 1292呎 , Type F 1302呎 (Two Bedrooms)
Type E 861呎 (One Bedroom)
OP Date
:
12m-2020y
Other
:
Straits Residences, a cosmopolitan seafront living that rewards you with the best of urban lifestyle, yet, perfectly integrated with privacy and exclusivity.

Both one-bedroom and two bedroom units are carefully designed to make the most of space and bring in natural light. This creates a feeling of brightness and elegance in the interiors.

Bathrooms and kitchens also boast fittings of branded sanitary wares, porcelain tiles and stones, granite worktops and quality appliances.

That luxury extends beyond units as Straits Residences comes packed with a litany of recreation amenities located on its Level 29 rooftop that also offers unobstructed views in every direction.

They include an infinity pool, Jacuzzi pool, wading pool, children's play area, pool deck, BBQ area, function room, gym room and landscaped paths.